21.01.2010 ã.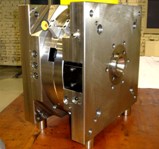 Matritsa LLC is happy to inform you that we have made our first two injection moulds for thin-wall packaging! Right after the Christmas and New Year's holidays we delivered the first two moulds to one of our biggest clients. The moulds were finished already in December of 2009 and were undergoing a series of testing procedures at the in-house facilities. Once the tests were proved to be successful the moulds were handed over to the client in the beginning of January 2010.

We have to admit that the first two moulds were accomplished by Matritsa with great and priceless effort from our partner company - Van den Brink. Van den Brink supported us not only technically but also mentally. Creating our first moulds using know-how from Van den Brink and help of their specialists allowed us to create masterpieces of mouldmaking which prove to be the best in its kind.

The client was satisfied with the results of the first trials and the end products that the moulds have produced. Very soon the moulds will be set for mass production at the premises of our client. We wish all our clients to produce only the best products with our high-quality injection moulds!